The Art Of Dropping
Chocolate
The Team Mascot
Members
Join Date: 2006-10-31
Member: 58123
Posts: 404
A complete guide to dropping all the chambers
Hello,
Welcome to the Art of Dropping. The goal of the article is to describe everything you need to know about every alien chamber in the game. If you got any suggestions or comments, feel free to tell me. But before you post, consider these rules:
NO flaming.

I absolutely hate flaming because there is usually no point. You may criticize others and disagree, but be polite about it.

Backup any negativity.

There comes no useful discussion if you say �this is stupid� or �this guide sucks�. If you say something like that, state why you feel that way and if possible give solutions. Also, make sure you follow rule #1.

Don�t be afraid to post objections.

If you feel that something is wrong or doesn�t really work, post it! I want this to be complete and thought through guide, so anything is welcomed. I won�t get mad at you to criticize, if anything I�ll be happier.
With that done, I�m going to say that this is going to be an ongoing project for me until I get
every chamber done
. My ultimate goal is to get a sticky and to have as many newcomers as possible read this guide. This is something for the new and the old alike, so I hope you enjoy it!
The General Tips
When you drop a chamber, there are certain things to consider before you drop it. Even If you don�t read the rest of this guide,
please at least consider these questions before dropping.
Where should I drop it? Will it be most effective there? Is it really worth the res there?
How should I drop it?What spot would this be the most effective?
When should I drop a chamber?The answer isn�t �when I get 10 res�
Also, remember this simple rule: "what benefits the most players is the best option". It is always better to put up a clear hive or replace missing chambers than to plant a few OC's.
The Offense Chamber
The offense chamber is a chamber which is a great force to be reckoned with, if placed properly. It has 1000 hit points, it deals 20 damage per hit and has a ROF of 1 spike every 2 seconds. An offense chamber, if placed correctly at the right time can easily take out a marine or two. Here are my tips to unlocking the full potential of an OC.
Where should I drop them?
This question is the most important question to ask, especially for an offense chamber. The OC can be redered useless if you don't consider this question. Here are my suggestions:
Medium Marine Traffic Area's
Medium Marine Traffic area's are the best places to put OC's. They provide a balance between effectiveness and maintainance.
Definition
Here is what consists of an optimal Medium Marine Traffic Zone:
An area where finding an alternate route is possible, but the detour would be longer to get through.
An area near resource nodes.
A somewhat neglected area by commanders, but marines will take these routes anyway.
An area quite a walk from marine bases.
Example: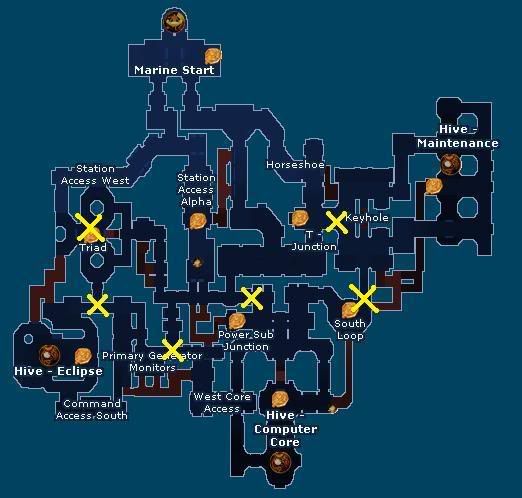 On this map, Triad is the best example of a medium traffic zone. Only groups of marines going to Triad itself pass through here. Rushes heading for Eclipse generally go through Station Access. This area blocks off half of Eclipse from the marines, along with
T-Junction is also a very good example. Although it experiences quite high amounts of traffic, a few more OC's/DC's will do the trick.
Advantages:
Denies the marines the possible resources downstream from the OC's.
Protects you're resource towers downstream.
Discourages ninja marines.
OC's tank damage from unskilled marines, allowing skulks to get the kill. This gives skulks RFK.
Makes it harder for marines to access the hives.
Not vulnerable from siege (without being very costly to marines).
Disadvantages:
Very vulnerable from grenade launchers
Ineffective against good players
Ineffective against many marines (rushes for example)
High Marine Traffic Area�s
High Combat area's are also very good places to put OC's. Once set up, they are giant road blocks. However, they must be continuously supported by gorges, umbra/spores and lifeforms. There are many advantages/disadvantages with placing OC's here
Advantages:
Gorges supporting these OC's become nearly indestructable.
OC's become much more effective (cause they are constantly shooting marines).
Important locations downstream from the OC's are protected (this usually includes double nodes or hives).
Requires considerable time, effort and resources by marines to uproot.
Disadvantages:
Requires co-operation and support of team members.
Structures must be constantly maintained.
Requires huge initial investment by the gorge.
High risk of backfiring, resulting in wasted resources.
Note:
Setting up OC's in high marine traffic areas can be very dangerous. You will need the support of higher lifeforms or other gorges to pull this off. I cannot advise setting these bases up as common practice because of it's high risk.
Near Kharaa Activity
OC's work best with aliens nearby for the following reasons:
Lower lifeforms can use the OC's as bullet tanks. When the marine's reload, skulks can run in and kill the marines unharmed. RFK for skulks leads to more higher lifeforms latter on.
Support for the chambers is always nearby, increasing the probable lifespan of the chambers.
Gorges will likely have easy access to the OC's, keeping the OC's health high.
Long Hallways
A very good place for OC's are long hallways. These hallways can't be too long so that it's out of range. Nor can it be so small that they can't fire more than 3 shots. Width isn't a large factor, but narrower hallways can advantage the OC more.
Advantages:
Marines do not have much space to dodge the incoming spikes
To pass the OC's, Marines must kill all the chambers or run right into the OC's.
Open, Medium Sized Rooms
Medium sized rooms are best for OC's because it can use all of it's 800 unit range. Also, cover usually hurts the OC moreso than help it, so cover is usually not a great idea.
Advantages
OC's can use all of its 800 units range in the room, so it can fire off as many shots as possible. As a result, marines who try to pass through the room will sustain heavy damage.
Marines have little option but to take cover at the door and shoot the OC's.
No cover means the OC has a complete FOV
Near Important Things
Here are some examples:
Resource Nodes
Choke points
Hive Siege Spots
Double Resource Nodes
Central locations (places where Marines would like to set up a base to access other areas)
Benefits:
Makes important map locations (hives, resource nodes) harder to access. Hard to access resource nodes mean resource nodes stay up for longer.
Defending is much easier and requires less alien-power. As so, there is more alien-power available for attacks.
Marines are left with fewer options (especially the "ninja phasegate" option)
How should I drop them?
This is the question that will determine just as much as the previous question how well your OC will preform. This could be even more important than the previous question too!
Minimal Grouping
Minimal grouping is something that you should keep in mind when placing OC�s. Personally, I find that you squeeze the most out of your OC if you spread them out rather than bunch them up in one place. The advantages of this are:
Marines are more likely to run past and get hurt rather than avoid it altogether.
It�s less deterrent to a rambo if it were spread out through the whole area rather than a huge wall of it. More marines would risk ramboing only to die by constantly being hit.
If the marine shoots a grenade, it would only hit the few chambers there. The other chambers won�t get hit by the splash damage. Same goes for guns, the bullets that miss won�t hit the chamber right next to it.
It covers a larger area, so the comm won't siege unless he's filthy rich or just plain dumb.
It covers a larger area, which is always a good thing.
Packs of 2 � 3 are the Best.
Especially with the new way the DC�s work, 2 OC�s and a DC works very well. These are more effective in higher combat areas than 1 in each corner, and are pretty cost effective too. They are
especially
deadly in high combat areas with a gorge there healing them.
Refer to this quote stated above:
QUOTE(Swiftspear @ Apr 27 2007, 10:28 AM)
»
One gorge on 1 OC is impossible for a single marine of equal skill to take out.

One gorge on 2 OC's is impossible for any single marine to take out, and in the case of a good gorge, very difficult for any less then 3 equally skilled marines to take out.

One gorge on 3 OC's can't be taken out in a timely manner without heavy weapons, and will cost any less then 3 shotgunners their life to displace completely. For the price of a lerk +10 res you can stop a disturbing amount of marine force at any given point on the map... Far more force then any skulk or lerk could, probably more then a fade could (the fade would need to run out and back several times, costing time).

2 gorges can almost outheal nearly a full marine team of LMG's shooting an OC, and their compiled heal spraying will make even heavy weapons (short of a GL) have great difficulty taking them down.
Place them on corners
This is the absolute most effective, quick and best piece of advice I can give for dropping OC�s I find. The reason for this is because it now covers a HUGE area compared to before. I cannot stress this one enough, because this one makes the OC twice as effective. This combined with 1 on each corner will still make rambos come in only to be caught between 2 OC�s and little health. Here�s an example:
OC Placement
Now, the marine would see the first OC and pass by it and most likely pass by the second one too. By the time he meets the first green line, he can�t turn around or he is dead, so he continues ahead. He continues to meet OC�s until his death at the second green line. In this formation, he has no place to hide and no place to run either. He can shoot it down, but it will take a long time and will be difficult without any cover.
Place them on high ground
High ground isn�t necessary, but sure does help. The biggest advantage is that grenades and GL grenades go in an arc trajectory so it would be harder for a grenade to hit. That�s because most of the time the ceiling is too low for the grenade to reach and the grenade the marines carry explode fairly quickly. The OC is also harder to knife (it could be an advantage).
The downside is that the OC usually becomes less effective if too high off the ground due to restricted FOV. It also doesn�t block the marine�s movement, which is something we want.
Avoid blind spots
If the OC is too far up on a ramp, it won't be able to shoot because of the maximum shooting angles. Also, placing an OC high up or far down can reduce how much actual view of the area it has. Also, the OC can be placed too close a corner without actually being on the corner which can make it too easy to remove. When in doubt, just place it at ground level on the corner. Here is an example of blind spots:
OC Blind Spots Corners
OC Blind Spots High Ground
When should I place them?
This part is kind of hard to write a guide for. This part is more up to you than anything else. Here are some questions you should pose yourself before you place an OC.
Can I afford to drop it?
You want to make sure that you have enough res inflow to balance the price of the OC.
Would the OC be more valuable in this situation than a RT?
If you control maybe half the map and you�re not gaining ground very quickly, it probably is worth it.
Would a DC/MC/SC be more valuable to my team?
Remember that your team members are more valuable to you than an OC. An OC can only do so much, but a teammate can do so much more. If it�s a high combat area, your fellow aliens would need healing/energy more than a measly OC.
How easily can the marines destroy it?
If all the marines have HA/HMG�s, then it will be a cake walk for them to destroy any OC they find. If you got no lifeforms to back up the OC, then it will again be a cake walk. But if your winning over the marines or the marines are relatively equal to you (and don�t have HA or HMG�s), then it would be more likely to be worth it.
Are the Marines using HA or JP's?
The counter to JP's are OC's, along with lerks. The OC can easily shoot down a JP. But the counter to OC's are HA's because OC's do half damage to heavies. It would be much more useful for the aliens to drop OC's if they use JP's rather than if they use heavies.

Would I spend my res better on being a lifeform?
Maybe your fellow aliens need a lerk? A lerk can be a powerful asset, especially with the gas. Lerk is supposed to be support, not a fighter, so don�t worry about being a bad aimer (like me). Maybe you�re a good fade, because the aliens can never get enough fades. Maybe an onos, because the stomp can REALLY help your teammates get those pesky HA�s or HMG�s.
Why Should I Drop Them?
By now you might be asking yourself: "Why should I drop one in the first place? I should just go Fade instead." consider this quote from Crispy:
QUOTE(Crispy @ Jun 24 2007, 04:03 PM)
»
Area denial can be important when the area is double res or a Hive, or the first junction on the quickest route to one side of the map from MS. And a lot of this doesn't apply to clan matches for obvious reasons, so let's keep in mind this is useful for people that want to play (and stay) on pubs.
With this in mind we can also say that Marines will not automatically go the other way.
Good players might try to gauge the skill of the Gorge by attempting an attack, and if you're good and take them by surprise, you can get a kill out of this.
Stupid/inexperienced players will blindly try to repeatedly attack the OC, which means lots of RFK, so you're getting area denial PLUS a Hive/Fade.
Stupid players dying to OCs aren't in any way effective for the Marine team. Stupid live players following people through a PG and attacking a Hive are at least in some way effective, since:

there are more targets so a Fade may not be eliminating the biggest threats first, keeping the good Marine players alive for longer
stupid live players can build sieges
stupid live players can shoot the Hive (but only if everyone else is doing it and the comm screams at them)
stupid live players can inadvertently block Fades
stupid live players can inadvertently keep dropped weapons/welders from disappearing

Also, stupid dead players clog up the respawn queue and keep the good Marine players dead for longer.
Frustrated comms might fork out res on a GL to deal with the OCs that are feeding on all his newbie/dumb Marines. GLs usually don't last long and are fairly ineffective weapons, so this is pretty much you forcing the comm to waste res that could be spent on more effective weapons or the tech tree, delaying 'Weapons 3', for example.
Early Detection
Using OC as early detection can really pay off. It can be more effective than a SC because the hive sight alerts can be more noticeable than the red dots on screen while also hurting the marines. Think of it this way: the OC forces a marine to do two things: Ignore the OC or Attack the OC. Most players choose to shoot it back, and if there are enough OC�s in the right place, the marine will have no choice to shoot it or take a large detour around it.
Buying Time
This is the one of the best things an OC can ever do. I repeat: buying time is the best thing an OC can do. Following up on early detection, if the marine shoots the OC(s) he will be diverting time to doing that task. Even if he manages to take the OC down, he still used up 1 minute of his time for 1 OC. Now, consider this quote from DC Darkling:
QUOTE(DC_Darkling @ Jun 6 2007, 06:17 AM)
»
You must do the most amount of useful actions in the least amount of time while forcing the other team to do the least amount of useful actions in the most amount of time.

Pull that off and you won
If the marine attacks the OC, that�s one minute more for the aliens to hit a base easier, one minute he can�t set up a ninja PG; one minute he�s doing the least in the most amount of time.
QUOTE(the_x5 @ May 17 2007, 05:27 AM)
»
They [the OC's] DELAY the marines. What does time delay do? Buys your team more labor-time at the expense of the marines. If they cause marines to break following orders and waypoins they are even better. And then there are some times where they are useful deterrents just like the marine turrets and CAN kill, even though they are really there to give suppressing cover fire.
And even by chance if the marine were to jump over the OC, he could only do it under specific conditions. First off, he can�t really jump over multiple OC�s, OC�s placed in long corridors and in corners and OC's in key locations like PG/siege locations. Jumping over these OC�s would cause heavy damage to him or make him lose a potentially valuable chance and going around these OC�s makes him lose plenty of time if not impossible.
QUOTE(Calculations @ Jun 11 2007)
Heal Spray
Healing Percentage = 4
ROF = appox. 1/sec
Offense Chamber
Hitpoints = 1000
Defence Chamber
Heal per Tick = 10 + 3%
LMG
ROF = 10/sec
Damage = 10/bullet
Calculations
Heal per Spray (HPS) = Hitpoints * Decimal Healing
= 1000 * 0.04
= 40
Heal per Tick = Hitpoints * 0.03 + 10
= 1000 * 0.03 + 10
= 40
Average Net damage to OC per second = LMG ROF * Damage � HPS
= 10 * 10 � 40
= 60
Considering this information, we can see that a gorge supporting an OC doubles the life expectancy of the chamber.
QUOTE(Swiftspear @ Apr 27 2007, 10:28 AM)
»
One gorge on 1 OC is impossible for a single marine of equal skill to take out.

One gorge on 2 OC's is impossible for any single marine to take out, and in the case of a good gorge, very difficult for any less then 3 equally skilled marines to take out.

One gorge on 3 OC's can't be taken out in a timely manner without heavy weapons, and will cost any less then 3 shotgunners their life to displace completely. For the price of a lerk +10 you can stop a disturbing amount of marine force at any given point on the map... Far more force then any skulk or lerk could, probably more then a fade could (the fade would need to run out and back several times, costing time).

2 gorges can almost outheal nearly a full marine team of LMG's shooting an OC, and their compiled heal spraying will make even heavy weapons (short of a GL) have great difficulty taking them down.
Conclusion
In conclusion, the OC is the most unused but can be one of the most useful chambers. It can make or break a game, because it can be the sole thing alerting you to a shotgun rush or the thing that stops that rambo PG from going up. It lightens the workload of the aliens, and piles it on the marines.
It's functions can summed up to 4 major things:
Lowers Armour (and health)
Tanks damage
Increases marine vulnerability (reloading)
Distracts the marines
Basically, the OC cannot and will not replace your team members, but it can supplement them and decrease the workload a heck of a lot. I repeat,
an OC is not a combat unit, it's best used as a support, damage absorber or a discouraging unit.
The Defense Chamber
The defense chamber is the least used chamber in the game, especially as a first chamber. Still yet, this chamber can provide invaluable support to structures and large units in the field if placed properly.
Where/How to Drop Them?
High Alien Traffic Area�s
Placing a DC near a high alien traffic route is one of the best place�s to put a defense chamber. With many aliens passing by the chamber, the chamber is never far from protection. Also, most fleeing lifeforms will flee to these areas because they are usually safer. So ultimately you�re squeezing the most from the chamber and keeping it alive the longest.
Note that High Combat Area's are not the same. It works the opposite way where there is combat because no aliens will stand still next to a DC to heal mid fire fight, most aliens will chose a safe place to heal.
In the Hive Room
Placing a DC near a hive works very well because of the way the DC works. EVERY hive should have a DC next to if you have the DC upgrade available.
Hives Under Attack
One DC can heal 3% of the hive�s health per tick, which is ALOT of health healed in one tick. To compensate for this healing, the mariens will need to spend more resources on sieging or shooting down the hive.
In my personal experience, a DC healing a hive under attack WILL make the difference between holding off an attack or not.
Before placing a DC in a hive, take into note the common siege spot(s) for that hive. Sieges always attack the closest structure to the siege first. So you'll want to put the DC farther from the sieges than the hive. Here's a little cartoon to help you understand
General Use
Even when the hive is not under attack, a Dc can be useful. As quoted:
QUOTE(Crispy @ Jan 11 2009, 03:13 PM)
»
They [the DC and the Hive] do compound healing to your team and structures on top of the Hive heal. DC + Hive = very rapid healing = less inactivity for Aliens = faster reinforcement = more Aliens on patrol = less surprises and more dead Marines.
If not Next to the Hive, Some Distance from the Hive
When you place a defense chamber, keep in mind that the hive heals much more that the measly defense chamber can. Also, to an alien, a hive is always safer than a random DC chamber. This means that you�d want to place the defense chamber a nice distance from a hive so it'll be used a little more.
Out of Sight, Out of Mind
If a structure is out of sight, its out of mind (for the enemy at least), thus increasing the chamber's lifespan. That's why it's best to put chambers in unnoticeable areas where marines don't generally look. This includes vents, dark corners, under gratings or anywhere else hidden.
Vents
Putting this chamber in vents (separated apart preferably) can be very useful in the long run. When placed there, they are virtually out of marine reach until JP's. That means that you will have this chamber almost all game, no matter if the corresponding hive is gone.
Placing them in vents can also be very useful for Skulks and especially Lerks. Chances are a Lerk will be trapped in a vent with marines outside and little HP. Putting a DC in that vent would save the Lerk either res (if they die) or time (if they self regen).
Near the Front Lines
Aliens in combat need healing, so yes, near combat would be a great place to put a DC. However, remember that you don�t want to place this too close to combat or else it'll be seen as unsafe and wont be used.
You may place your DC an intersection/room away from where most of the fighting is happening. Doing so will allow for the aliens to lose ground and give lifeforms a safe place to heal.
Also note that you may need multiple DC�s to accommodate multiple aliens at a time.
Near other Chambers (except other DCs)
You may wish to place DCs near other chambers like OCs, for constant heal protection. Just note that you need to know how much action the OCs will see. For example, if there are multiple OCs near a high traffic area for marines, chances are it will see a lot of action. As so, you might want to place multiple DC�s behind the OC�s. A good rule of thumb is a 3:2 ratio of OC�s to DC�s in high marine traffic area�s and a 2:1 to a 3:1 ratio in lower traffic areas.
Also note that you will not want to put your only DC's in that one spot. Reasons for not doing that are:
If they were to die, then you will lose any defense upgrades until they can be replaced.

QUOTE(Crispy @ Jul 17 2007, 06:13 PM)

»

I look DCs the same was as I look at SCs. For me the best result is getting a network so you're never any more than 5 seconds from healing. Having them all clumped in one area isn't making the most of their area of effect. A typical theory in NS is "what benefits the most players is the best option". This means in almost all cases Hive+Fade > 2xFade, 1st/2nd/3rd upgrade chamber > OC, 1st+2nd/2nd+3rd upgrade chamber > Lerk. The same applies (imo) to DC placement. Healing lots of players a small amount all over the map is better than healing fewer players a larger amount in one section of the map. The main difference vs. the SC is it's much harder to come up with safe spots for DCs and if you do it requires teamwork to get existing Gorges into vents or to get more players to Gorge inside the vents and drop.

The marines can just go to that area with all the DC's and shoot down any fleeing lifeforms, as well as structures. Since fleeing lifeforms have nowhere else to heal, they have no choice but to stay and fight or run to a potentially far healing station.
When to Place them?
As Soon as a new Hive is Up
This is self explanatory, because the sooner you can get the upgrade the better.
During or Before Attacks
You�d defiantly want to place a DC nearby when a critical battle is going on. It is especially important in chokepoints and uncompleted hives, because there is usually nowhere else nearby to heal. It saves the Gorge in the area from healing lifeforms till his spray runs dry and helps gets aliens back into the battle faster.
Preferably you would want to put the DC in before the fight begins, like right after the second hive is dropped (most decent marine teams would try to attack the second hive during construction) or in important choke points like Generator Room in ns_nothing. This allows for the lifeforms in the area to be as effective as possible before the marines establish a working base there.
A Placement Order or checklist
One of those tid bits I have yet to find a proper place for, but useful nonetheless:
QUOTE(Crispy @ Jan 11 2009, 03:13 PM)
»
I would always drop DCs in the following order:
DC is 1st chamber (rare)

In the starting Hive (out of the way of future sieges)
In an important chokepoint, close to the starting Hive (e.g. Cargo on Tanith if you start in Fusion)
In the second Hive if it is clear (you must personally make sure it does not go down). Failing that, in a hidden and preferably inaccessible area (e.g. vent) close to Marine Start so Fades can harass the MS with greater frequency (there are a few good examples on Eclipse and Tanith where this can work).
DC is 2nd chamber
1 DC per Hive by order of which is most under threat (e.g. has Marines pushing it most, especially if it has a PG close to it)
If you are on the back foot, in an important chokepoint close to the Hive most under threat; if you are on the offensive, in a hidden and preferably inaccessible area (e.g. vent) close to Marine Start so Fades can harass the MS
DC is 3rd chamber
1 DC per Hive by order of which is most under threat
Why Should I Place Them?
There are many reasons why you should place a DC, they are:
They provide defensive upgrades to all the aliens, like carapace or redemption. This gives everyone a big boost in combat.
They give aliens an alternative place to heal. This saves them plenty of time and reduces the risk of surprise attacks during travel (because there is less traveling to do).
It helps the gorge nearby in healing wounded aliens. This doubles healing time which gives the gorge and lifeform more time to do things.
It heals large amount of health for structures and onos�s. This provides more healing than any single gorge could for a low price of 10 res.
Conclusion
In conclusion, the DC is very effective than what it is credited for. It is a rather easy chamber to place, as long as its protected. It is a good practice to place DC�s near the front lines and near OC�s because this cycle happens: the OC�s defend the DC and wounded aliens, the DC heals the aliens and OC�s and the healed aliens protect the chambers.
In short, you should build DC�s:
Next to hives
Close to structures
Close to wounded aliens (aka. The front lines)
Out of sight
MC and SC to Come!
========
Thanks for reading, I hope you liked it!
Credits:
Chocolate:
For writing this guide
Ambritenaro
(spelling to be checked): For joking around about dropping chambers made me make this guide
.
Crispy:
Really gave good points about OC's that I wouldn't either think of or would have a hard time explaining. I took nice bits of information from him
.
Swiftspear:
For pointing out some bad points and giving a good deduction of gorges .
KainTSA:
For thinking the way I do, understanding my point of view and giving some additions.
Bacillus:
For making a small contribution.
Alite:
He didn�t do all that much, but I have NS discussions with him every once and awhile.
DC_Darkling:
I took a really good definition from him on how to win a game. Fits perfectly with my guide.
the_x5:
Took a quote from him.
Tactical Gamer Server:
Heh, I like playing on this server, its one of the best around. It�s also the server on which I play on the most and originally played on and got the idea of making this guide.
(tell me if I missed you, but make note that ill add you in if you made a notable (either criticism or actual quotes)).
Post edited by Unknown User on