ns2_esoteric
alibi
Join Date: 2009-11-20
Member: 69445
Members
Posts: 172
Fully active user
Hey guys.
I am finally feeling confident enough to announce and commit to completion my map project.
ns2_esoteric
- underground waste disposal facility.
Setting/Backstory:
(could change in future)
Built many fathom below the surface, Esoteric facility is seen as the solution to the ever-growing waste problems of the consumerist human species. Debris sent down from the surface is thrown into deep chasms, burning up in the heat below. The heat and chemical energy released is then harvested for other uses. Unforseen events unfold when new mining exposes the facility to Khaara infestation.
Layout:
I have designed my own layout of 5 Tech Points and 7 Resource Points.
There is a double resource room in the center connected directly to other resource only by secondary routes. In late game it may be 'easy' to hold 3 tech points but difficult to hold enough resource to sustain production. It will be near impossible to avoid at least denying opposition hold of the double RP.
Style:
I'm going for a clean, grungy look with warm yet dark and atmospheric lighting. Brighter lights highlight exits and key things like the location of Points. It should be easy to locate the 'exit' toward another area so players don't get lost.
Also, the plan is for more exposed rocks to be nearer to Alien spawn.
I have built and designed around 4 rooms but I have and will be carefully rebuilding them to better scale and giving them a quick polish to a professional finish I'm happy to share.
So for now, just one room to show.
Marine Spawn - 'dispatch'

presumably where workers would 'login' and suit up for the day's work.
overlooking the Tech Point and floorspace:
a view from the resource point showing the locker room (access to Resource 1):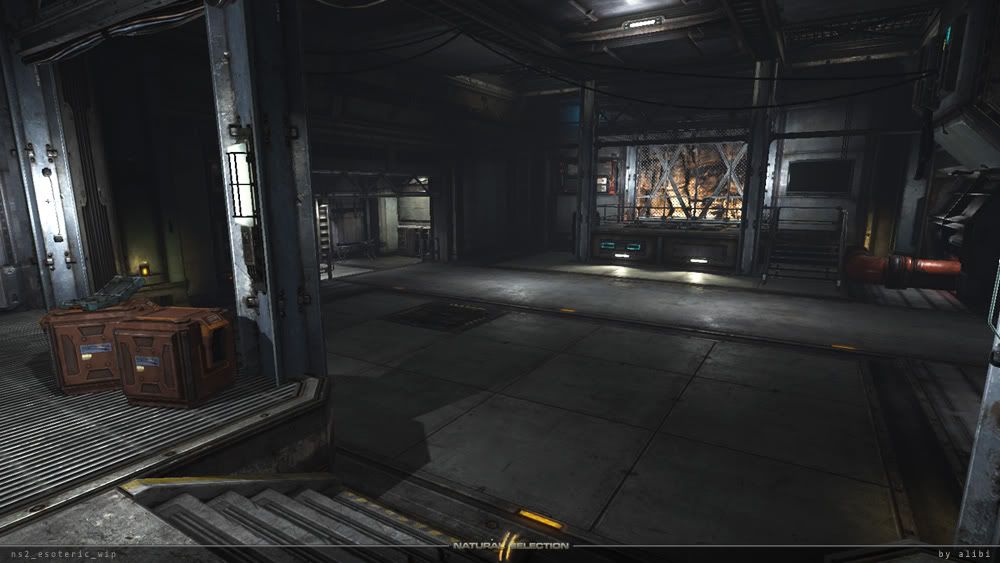 corridor out toward Tech 2:
spawn Resource Point: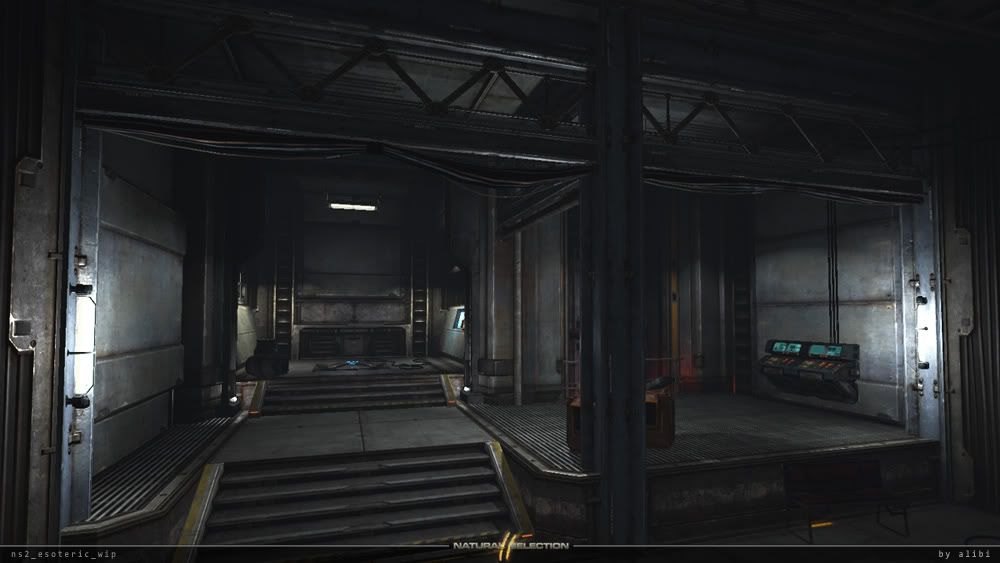 Please, any input greatly appreciated!
wish me luck haha.
edit: oops, messed up the thread description.. if someone could delete it >.<
Removed thread description.
-Angelusz
Post edited by Unknown User on