Ultimate Guide to play Subnautica in Virtual Reality with Google Cardboard (or Gear VR)
Firn
Join Date: 2017-03-10
Member: 228805
Members
Guide to play Subnautica with Google Cardboard (or Gear VR)
I did my best to write down the most detailed guide on how to set things up. Would be great if one of the mods could stick this post. The quality of this VR approach vastly depends on the type of cardboard used and phone screen/sensors capabilities. With proper setup, the effect is comparable to Oculus Rift DK2 or even better. An example on how can it work can be seen in the video below.
Requirements:
A Google Cardboard type headset (can be cardboard or plastic one - there is plenty of those on the market) or GearVR Device.
An Android 5.x+ version phone or Samsung Galaxy phone that works with GearVR.
A VR capable PC with modern GPU (If Subnautica works well on your PC then it should be enough). Running at least Windows 7 (if you have NVidia Card) or at least Windows 8.1 (If you have AMD Card)
RiftCat's VRidge software to emulate HTC Vive.

NOTE: RiftCat is an app with free trial which requires the connection to be restarted every 10 minutes. Unlocking full version costs 15 EUR. Otherwise there is no difference between free/paid version.

(optional) An USB cable or 5GHz WiFi router.
Setup steps:
To start, we have to install and configure RiftCat software to make the connection between our phone and the computer.
Video guide (if you prefer this form of guidance):
Text guide:
1. Installing RiftCat:
Go to
https://riftcat.com
. Download RiftCat application and install it. Upon launching, you will have to register or login with your social media account. Successful login will bring you to the connection screen:
This is a screen that shows you the connection options. If there is no phone with USB tethering connected there should be only WiFi available. Choosing Automatic option is the best for the beginning as it will scan through all the connections to find your phone. After selecting the connection, the application will start looking for your phone. To make the connection happen, we have to install VRidge app on the phone.
2. Installing VRidge:
Within the connection screen in RiftCat application you can find big buttons for VRidge app download. You can choose if you want to get Google Cardboard version or GearVR version.
Cardboard version
Installing normal Google Cardboard version is straightforward. Click the corresponding button or go to:
https://play.google.com/store/apps/details?id=com.riftcat.vridge
and install the app on your phone. Open it afterwards.
GearVR version
Installing GearVR version is a bit more complicated but it gives you the advantage of GearVR internal sensors head tracking. VRidge is not part of official Gear VR store so it has to be done using third party marketplaces like Construct.io.
Video guide made by DaleyTech describes how to install VRidge for Gear VR (text version below):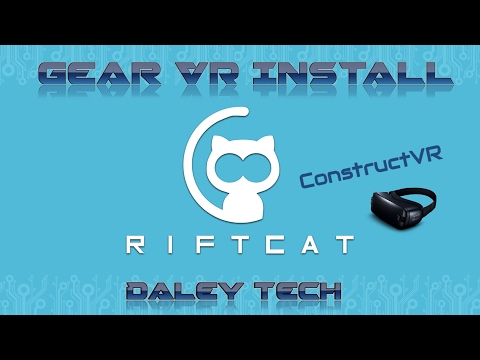 The process is more complex because Gear VR will close the VRidge app upon placing it in the headset. To avoid this, we have to use Construct VR website.
You have to force your phone to accept apps installations from unknown sources. Do it by going to Phone Settings - Security. You will find "Allow installation of apps from unknown sources" there. Make sure that it's checked.
Go to construct.io VRidge page and type your email to get download link for Construct VR.
After receiving the email, install Construct VR and create an account.
Login into Construct VR and you will see VRidge for GearVR app. Click it and press "Accept invite" and then "Download".
After the installation. VRidge for GearVR will show up in your Apps.
3. Making a connection:
If your phone and computer are in the same WiFi network, your phone should be detected. You will have to confirm the connection inside the RiftCat application (on your PC). Most probably, you will get connected over WiFi network. The connection might be unstable and cause artifacts in-game (especially on crowded 2.4GHz network). In that case, an USB connection is recommended.
To connect via USB. You will have to enable USB tethering on your phone and wait for USB connection to appear in RiftCat connection window. You can find a video guide on how to setup USB connection below:
Successful connection should bring you to the final RiftCat screen:
4. Setting up SteamVR:
At this moment, your computer will start to recognize your phone as an HTC Vive headset. To continue, we will have to configure SteamVR driver to make it work.
Video guide:
Text guide:
Start by pressing the Play SteamVR Games in RiftCat application. A Steam client should launch and it should ask for SteamVR driver installation (if you do not have Steam, it will bring you to the Steam download page). Proceed with the instruction and wait for the installation to be completed.
When the installation will be finished, press Play SteamVR Games in RiftCat application again. It will launch SteamVR driver. We will have to complete Room Setup. Press "Run Room Setup" button that will be available in one of the windows.
You will have to follow the setup process:
On the first window, select "Standing Only" experience.
Move your phone in the direction that you consider your front (usually where your monitor is placed) and press "Calibrate Center" button.
Then enter your height in CM or inches to calibrate the floor (don't ignore this step or your head will be on the floor level in games).
Your setup should be finished and you should start seeing the demo scene on your phone. You can put the phone into your VR headset and see first effect!
5. Launching Subnautica in VR:
The software is ready so we can launch Subnautica in VR. Make sure that RiftCat is connected with your phone and SteamVR driver is launched. Launch Subnautica through Steam by pressing Play and choose "Launch Subnautica in Steam VR mode". This will launch the game in VR. Enjoy!
NOTE: Do not send Google Cardboard setup related questions to Unknown Worlds. If you are having issues setting up Google Cardboard Subnautica gameplay, ask in this topic.