Noobs Galore?
ColHapablap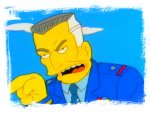 Join Date: 2004-01-31
Member: 25864
Posts: 55
Members
I feel that lately there have been many noobs showing up all over the place.
Am I the only one with this problem???
Are there any servers designated for noobs?
*IMAGE BALEETED* Sig images must be no more than 400 pixels wide x 75 pixels high, and they must also be no more than 22KB in size. No exceptions. -Talesin
My New Sig. LOL. Like it?
This discussion has been closed.