A discussion of designs and ideas
I am working on a map but it is nowhere near ready for it's own thread yet. So I decided to create a general thread for maps and their discussions before they reach own thread stage.
I'd like to start with a dissection on the plans, aims and goals of my map, and hope others will contribute their own ideas, so we can see the ideas under development in the community.
My map does not use any of the standard layouts, but follows the guidelines very heavily in all other respects, including fixed spawn for marines and aliens. The key word I picked up on in the mapping guidelines was "Relocation", and this map is designed to force serious consideration of relocation strategies. It has to be fixed spawn, as only the two starting positions have res nodes attached.
Layout:
I am using a 5TP/8RP design, it would have been 7RP, but I wanted a Double
:)
Below is the layout design I am working from, I shall explain it underneath. Please note it is not to scale, it is just a template.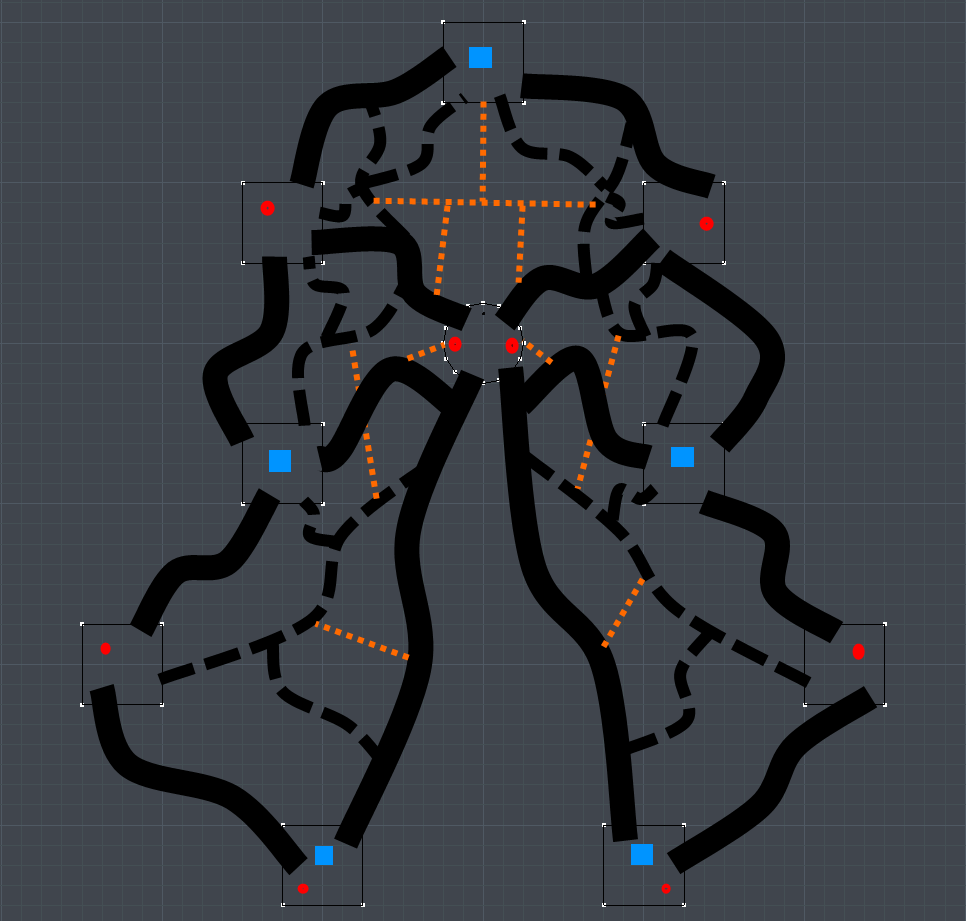 The plans for the general timings fit in with the guidelines, but key timing points to note are:
Start>RP>1XP is slightly less than Start>Double
1XP>2RP is slightly less than 1XP>Double
Double>2XP is slightly shorter than 1XP>2RP>Double
Primary paths are always slightly shorter than the equivalent Secondary path. This means smaller aliens can travel a bit safer, at a time cost, early game, and the marines can travel safer (hiding from teh onoes
:P
), at a time cost in late game.
Tactics:
This is designed for fast gameplay, more aggresive, and risky, tactics, could significantly shorten the game time.
MS is on the left btw.
If marines relocate to 1XP, they have good base for holding double, 1RP and 2RP, this enables them to keep pressuring 2XP, and make a big hit against A1XP.
If marines relocate to 2XP, they can secure 2 Res, and fight at double, making double a choke point. Double only becomes a choke point, when 2XP is held, and is the only way to really make it hard for aliens to get 3 hives.
There are other tactics I can see, but I think this map layout will create some really interesting and fast paced gameplay. This map I believe really opens up for the chances for the commanders to succeed or fail. Making it potentially a good competitive map, which is the ultimate plan. We'll see how that pans out.
As for current progress, I am on my 3rd or 4th restart, I am working hard on adjusting the grey box layout to get timings right at the moment. I have grey-boxed most of the left half of the map, as well as top tech point. I will flip the left half, and just edit, rather than starting from scratch on the right, but it will be heavily edited and different in shape and theme.
Theme
When I get to the point of putting the theme into the map, it is built on an asteroid in a unique belt of frontier space. This belt is a unique discovery, as the asteroids were found to not be frozen, but to actually have molten metal cores. An action it turns out, caused by the pull of the various plants around the belt. Facilities were set up on the larger asteroids to extract the molten metals. The surface of these asteroids is extremely toxic, and as such all buildings are encased in an outer biodome. This allows me an outside area like crevice at summit, so lerks can fly, JP's can hover, and skulks can walk on invisble walls, plausibly. The complex is built into a mountain side. The left side and the top will be outside of the mountain, with views outside, light, ambient suns through windows and fans, etc, while the right hand side will be the processing/extraction side and will be in the mountain, no natural ambient light, all artificial light.
This is my plan so far. As I am at a very early stage in grey boxing, and significant changes or suggestions to the layout/connections, general ideas (not the theme, that is a looonng way off), of this map, let me know.